Oui, cet homme est le Premier Gentleman du Luxembourg et beaucoup de ces femmes ne sont que des partenaires - O Modern Marriage !!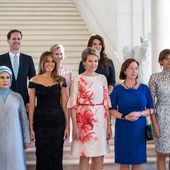 Why this photo of political spouses and partners is making waves
The First Gentleman featured is one-of-a-kind
http://edition.cnn.com/2017/05/26/world/luxembourg-prime-minister-husband-gauthier-destenay-trnd/index.html
C'est la merveille des mariages modernes: vous ne devez pas être mariés dans la même catégorie d'âge, ou le sexe ou la religion! Trois salutations aux couples modernes!