FLOTUS Melania gagne les coeurs saoudiens!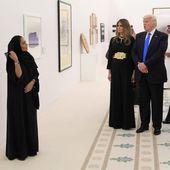 Melania Trump gets rave reviews in Saudi press
Both the first lady and first daughter Ivanka Trump have been closely watched in Saudi Arabia for both style and substance. On Sunday, the first lady conducted a few solo events while her husband ...
http://edition.cnn.com/2017/05/21/politics/melania-trump-saudi-arabia/index.html
First lady of the United States Melania Trump is winning over hearts in Saudi Arabia with her friendly approach. She wore a special jumpsuit which looked like an abaya thus pleasing the orthodox men and women.
Première femme des États-Unis Melania Trump gagne les cœurs en Arabie Saoudite avec son approche amicale. Elle portait une combinaison spéciale qui ressemblait à un abaya plaisant ainsi aux hommes et aux femmes orthodoxes.